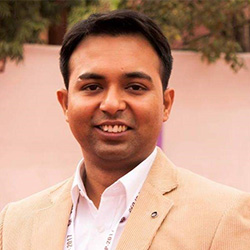 Location:
Bldg. 76, Rm. 2160
Dr. Tinku Saikia
Post-Doc Researcher, Department of Petroleum Engineering
Dr. Tinku Saikia is a Post Doctorate Research Fellow in the Petroleum Engineering Department at KFUPM. He holds a Ph.D. degree in Petroleum Engineering from IIT (ISM), Dhanbad, India. During his Ph.D., he worked in the field of development of gas hydrate inhibitors for drilling fluids. He joined Complex and Reactive Fluids (CRF) Lab at KFUPM in 2018
Educational Qualification
Ph.D. in Petroleum Engineering
M.Tech in Petroleum Exploration and Production
B.Tech in Mechanical Engineering
Research Interests
Gas Hydrates Inhibitors and Promoters
Conformance Control and Permeability Modifiers
Selected Publications
Quantum dots: A new approach in thermodynamic inhibitor for the drilling of gas hydrate bearing formation. Journal of Industrial and Engineering Chemistry, Volume 52, 25 August 2017, Pages 89-98.
Experimental investigations of clathrate hydrate inhibition in water based drilling fluid using green Inhibitor. Journal of Petroleum Science and Engineering, Volume 147, November 2016, Pages 647-653.
Evaluation of 1-Decyl-3-Methylimidazolium Tetrafluoroborate as clathrate hydrate crystal inhibitor in drilling fluid. Journal of Natural Gas Science and Engineering, Volume 36, Part A, November 2016, Pages 906-915.
Temperature Augmented Visual Method for Initial Screening of Hydrate Inhibitors. Oil & Gas Science and Technology – Revue d'IFP Energies Nouvelles Volume 73, 2018, 1-8.
Evaluation of Soya Lecithin as Eco-friendly Biosurfactant Clathrate Hydrate Antiagglomerant Additive. Journal of Surfactants and Detergents. Volume 21(1), 2018, 101-111.
Experimental Investigations and Optimizations of Rheological Behavior of Drilling Fluids using RSM & CCD for Gas Hydrate Bearing Formation. Arabian Journal for Science and Engineering, Volume 43 (11), November 2018, Pages 6541-6554.