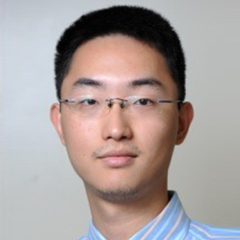 Location:
Bldg. 76, Rm. 1253
Dr. Qinzhuo Liao
Assistant Professor, Petroleum Engineering Department
Dr. Liao is an assistant professor at the Department of Petroleum Engineering. Before joining KFUPM, he was a postdoctoral researcher in Stanford University and Peking University from 2015 to 2017.
Educational Qualification
Ph.D., Petroleum Engineering, University of Southern California, USA, 2014.
B.Sc., Mechanical Engineering, Peking University, China, 2009.
Research Interests
Uncertainty Quantification/Sensitivity Analysis
History Matching/Data Assimilation
Upscaling/Grid Coarsening
Reservoir Simulation/Flow and Transport in Porous Media
Selected Publications
Liao*, D. Zhang, and H. Tchelepi (2017), Nested sparse grid collocation method with delay and transformation for subsurface flow and transport problems. Advances in Water Resources, 104, 158–173.
Liao*, D. Zhang, and H. Tchelepi (2017). A two-stage adaptive stochastic collocation method on nested sparse grids for multiphase flow in randomly heterogeneous porous media. Journal of Computational Physics, 30, 828–845.
Chang, Q. Liao, and D. Zhang* (2017). Surrogate model based iterative ensemble smoother for subsurface flow data assimilation. Advances in water recourses, 100, 96–108.
Liao, and D. Zhang* (2016). Probabilistic collocation method for strongly nonlinear problems: 3. Transform by time. Water Resources Research, 52(3), 2366–2375.
Liao, and D. Zhang* (2015). Constrained probabilistic collocation method for uncertainty quantification of geophysical models. Computational Geosciences, 19(2), 1–16.
Liao, and D. Zhang* (2015). Data assimilation for strongly nonlinear problems by transformed ensemble Kalman filter. SPE Journal, 20(1), 202–221, SPE-173893-PA.
H. Chang, Q. Liao, and D. Zhang* (2015). Benchmark problems for subsurface flow uncertainty quantification. Journal of Hydrology, 531, 168–186.