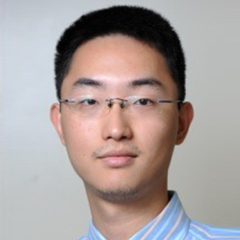 Location:
Bldg. 76, Rm. 1253
Dr. Qinzhuo Liao
Assistant Professor, Department of Petroleum Engineering
Dr. Liao is an assistant professor at the Department of Petroleum Engineering. Before joining KFUPM, he was a postdoctoral researcher in Stanford University and Peking University from 2015 to 2017.
Educational Qualification
Ph.D., Petroleum Engineering, University of Southern California, USA, 2014.
B.Sc., Mechanical Engineering, Peking University, China, 2009.
Research Interests
Uncertainty Quantification/Sensitivity Analysis
History Matching/Data Assimilation
Upscaling/Grid Coarsening
Reservoir Simulation/Flow and Transport in Porous Media
Selected Publications
Qinzhuo Liao

*, Lingzao Zeng, Haibin Chang, and Dongxiao Zhang (2019). Efficient history matching using Markov chain Monte Carlo by means of transformed adaptive stochastic collocation method.

SPE Journal

, SPE-194488.

Qinzhuo Liao

*, Gang Lei, Dongxiao Zhang, and Shirish Patil (2019), Analytical solution for upscaling hydraulic conductivity in anisotropic heterogeneous formations.

Advances in Water Resources

, 128, 97–116.
Yi Hong,

Qinzhuo Liao

*, Celine Bonhomme, and Ghassan Chebbo (2019), Physically-based urban stormwater quality modelling: an efficient approach for calibration and sensitivity analysis,

Journal of Environmental Management

, 246, 462–471.
Gang Lei,

Qinzhuo Liao

*, Shirish Patil, and Yang Zhao (2019), Effect of clay content on permeability behavior of argillaceous porous media under stress dependence: A theoretical and experimental work,

Journal of Petroleum Science and Engineering

, 179, 787-795.
Gang Lei,

Qinzhuo Liao

*, and Dongxiao Zhang (2019), A new analytical model for flow in acidized fractured-vuggy porous media,

Scientific Reports

, 9(1), 8293.