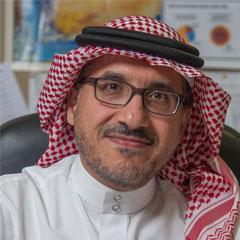 Location:
Bldg. 76, Rm. 2137
Dr. Mohammad H. M. Ashri
Associate Professor, Geosciences Department
Before assuming his current role as an Associate Professor at CPG, Dr. Ashri was retained as a Consultant for Environmental Protection Dept. (EPD), Saudi Aramco in 2016, for Technical Development Team, Global Suhaimi Co. from 2006 till 2010, for EPD, Saudi Aramco in 2006, and for Groundwater Division (GWD), Saudi Aramco in 2005.
Educational Qualification
Ph.D., Civil & Environmental Engineering, Colorado State University, USA, 1998.
M.Sc., Geology, KFUPM, KSA, 1991.
B.Sc., Geology, KFUPM, KSA, 1985
Research Interests
Geostatistical evaluation of natural resources (oil reservoirs, groundwater aquifers, and mineral deposits).
Groundwater resources management & sustainability.
Selected Publications
Yassin, M., M. Hariri, Abdullatif, and M. Makkawi, 2016, Evolution history of transtensional pull-apart, oblique rift basin and its implication on hydrocarbon exploration: A case study from Sufyan Sub-basin, Muglad Basin, Sudan, Marine and Petroleum Geology, DOI:10.1016/j.marpetgeo.2016.10.016
Makkawi, M. H., 2015, Geostatistics as a groundwater exploration planning tool: case of a brackish-saline aquifer, Arabian Journal of Geosciences, Vol 8, Issue 5, pp 3311–3319
Iwalewa T. M. and H. Makkawi, 2015, Site characterization and risk assessment in support of the design of groundwater remediation well near a hazardous landfill, AJGS, 
Vol 8, Issue 3, pp 1705–1715
Eltom, H., O. Abdullatif, Makkawi and A. Abdulraziq 2014. Characterizing and modeling the Upper Jurassic Arab-D reservoir using outcrop data from Central Saudi Arabia, GeoArabia, Volume 19, Number 2, pp. 53-82.
Awards & Honors
Royal Commission of Jubail & Yanbu (RCJY) Appreciation Award, Technologies in Waste Management, 2014.
RCJY Recognition Award, World Environment Day (WED), 2007.
Madinah Municipality Recognition Award, Environmental Pollutants Technical Symposium, 2006.
EPD Recognition Award of Saudi Aramco, 1st Groundwater Technical Exchange Meeting, 2005.
Annual Best Paper Exploration Organization Award of Saudi Aramco.
Ambassador Prince Bandar Bin Sultan Award for Academic Achievement, 1999.
Prince Mohammad Bin Fahd (E. Province Governor) Award for Scientific Excellency in Applied Research, 1998.
CSU 1st Place Award to Saudi Students House, International Day, 1996.
KFUPM Rector's Certificate for Remarkable Services, 1990.