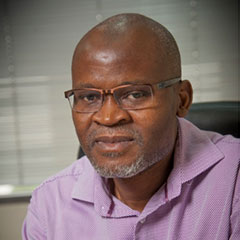 Tel:
+966 (013) 860-​7444
Location:
Bldg. 15, Rm. 6130
Dr. Lamidi Olabode Babalola
Research Scientist III, CIPR
Dr. Babalola is an experienced geoscientist with a multidisciplinary background in geology, strong knowledge and competence in sedimentology, micropaleontology, palynology and environmental geochemistry. He possesses over 20 years of academic and industrial experience. He originally graduated in 1985 from The University of Ilorin, Nigeria with a BSC (Honors) in Geology and this was further supplemented with his graduation from KFUPM in 1999. In 2009, he secured a Ph.D. Geology from Carleton University in Ottawa, Ontario, Canada.
Educational Qualification
Ph.D., Geology, Carleton University, Canada, 2009.
M.Sc., Geology, KFUPM, KSA, 1999.
M.S., Applied Geology, Obafemi Awolowo University, Nigeria, 1992.
B.S., Geology, University of Ilorin, Nigeria, 1985.
Research Interests
Geology, Sedimentology, Micropaleontology, Palynology and Environmental Geochemistry.
Selected Publications
Amao, A.O., Kaminski, M.A., Babalola, L.O., Status of benthic foraminifera in the hypersaline Salwa Bay (Saudi Arabia). Submitted to Journal of Foraminiferal Research
Babalola, L.O., Kaminski, M.A., Patterson, R.T., and Natalia Vazquez-Riveiros, N., The wall structure of the agglutinated foraminifer Eggerella advena: its reassignment to the genus Eggerelloides, and description of Eggerelloides belizensis n.sp. submitted to International Workshop on Agglutinated Foraminifera.
Chan, S.A., Malik, M.H., Kaminski, M.A., Babalola, L.O., Optimization of the Acetic Acid method for microfossil extraction from lithified carbonate rocks: Examples from the Middle Jurassic Dhruma Formation and Middle Miocene Dam Formation in Saudi Arabia. Submitted to Arabian Journal of Geosciences.
Chan, S.A., Kaminski, M.A., Babalola, L.O. Foraminiferal biofacies and depositional environments of the Burdigalian Mixed Carbonate and Siliciclastic Dam Formation, Al-Lidam area, Eastern Province of Saudi Arabia. Submitted to Palaeogeography Palaeoclimatology Palaeoecology
Eltom, H., Abdaseed, K., Abdulraziq, A., Babalola, L.., Makkawi, M., Abdulatif, O., Incorporating multiple scenarios of porosity evolution into a three-dimensional outcrop reservoir analog model: a case study of the Upper Khuff Formation oolite carbonates, central Saudi Arabia. Accepted Journal of Petroleum Engineering & Sciences.
Awards & Honors
Overall Best Student in Geology Award, University of Ilorin, Nigeria (1984/85)
Graduate Fellowship Award, Obafemi Awolowo University, Ile-Ife, Nigeria (1989-1990)
AAPG Grant-in-Aid Award (1998, 2007)
Research Assistantship, King Fahd University of Petroleum & Minerals (1997-2000)
Alice Wilson Scholarship for Paleontological Research ( Carleton University, 2007)
Entrance Scholarship Award (Carleton University, 2003/2004)
Domestic Student Tuition Award (Carleton University, 2004-2006)
Teaching and Research Assistantships, Carleton University, Ottawa, Canada (2004-2009)
Millennium Gold Bursary (Carleton University, 2009)