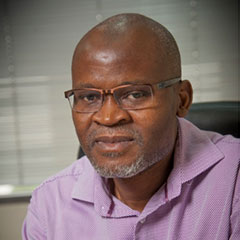 Tel:
+966 (013) 860-​7444
Location:
Bldg. 78, Rm. 2031
Dr. Lamidi Olabode Babalola
Research Scientist II, CIPR
Dr. Babalola is an experienced geoscientist with a multidisciplinary background in geology, strong knowledge and competence in sedimentology, micropaleontology, palynology and environmental geochemistry. He possesses over 20 years of academic and industrial experience. He originally graduated in 1985 from The University of Ilorin, Nigeria with a BSC (Honors) in Geology and this was further supplemented with his graduation from KFUPM in 1999. In 2009, he secured a Ph.D. Geology from Carleton University in Ottawa, Ontario, Canada.
Educational Qualification
Ph.D., Geology, Carleton University, Canada, 2009.
M.Sc., Geology, KFUPM, KSA, 1999.
M.S., Applied Geology, Obafemi Awolowo University, Nigeria, 1992.
B.S., Geology, University of Ilorin, Nigeria, 1985.
Research Interests
Geology, Sedimentology, Micropaleontology, Palynology and Environmental Geochemistry.
Selected Publications
Abouelresh, M.O., Babalola, L.O., 2020, 2D spatial analysis of the natural fractures in the organic-rich Qusaiba Shal.e outcrop, NW Saudi Arabia. Journal of Petroleum Science and Engineering,186, 1-13, 106780
Abouelresh, M., Babalola, L., Bokhari, A., Omer, M., Koithan. K., and Boyde, D., 2020. Sedimentology, geochemistry and reservoir potential of the organic-rich Qusaiba Shale, Tabuk Basin, NW Saudi Arabia. Marine and Petroleum Geology, 111, 240-260.
Adebayo, A.R., Babalola, L.O., Hussaini, S.R., Alqubalee, A., and. Babu, R.S, 2019. Insight into the Pore Characteristics of a Saudi Arabian Tight Gas Sand Reservoir. Energies, 12(22).
Ismanto, A.W., Chan, S.A., Babalola, L.O., Kaminski, M.A., Al-Ramadan, K.A., Abdullatif, O.M., 2019. Microfacies, Biofacies, and Depositional Environments of the Bajocian-Bathonian Middle Dhruma Carbonates, Central Saudi Arabia. International Journal of earth Sciences,108(8), 2577–2601.
Abdelkarim, A.A., Abdullatif, O.M., Babalola, L.O., Makkawi, M.H., Yassin, M.A., 2019. High-resolution lithofacies and porosity modeling of the mixed siliciclastic–carbonate deposits of the Burdigalian Dam Formation, Eastern Saudi Arabia. International Journal of Earth Sciences, 108(1), 155-172.
Alqubalee, A., Abdullatif, Babalola, L., Makkawi, M., 2019. Characteristics of Paleozoic Tight Gas Sandstone Reservoir: Integration of Lithofacies, Paleoenvironments and Spectral Gamma Ray Analyses, Rub al Khali Basin, Saudi Arabia. Arabian Journal of Geosciences, 12(11): 344 https://doi.org/10.1007/s12517-019-4467-0.
Alqubalee, A., Babalola, L., Abdullatif, O., and Makkawi, M., 2019, Factors Controlling Reservoir Quality of a Paleozoic Tight Sandstone, Rub' al Khali Basin, Saudi Arabia: Arabian Journal for Science and Engineering, 44(7), 6489-6507.
Kaminski, M.A., Perdana, P., Abouelresh, M.O., and Babalola, L.O., 2019. Late Ordovician agglutinated foraminifera from the Ra'an Shale Member, Qasim Formation of Saudi Arabia as indicators of the O40 Maximum Flooding Surface. Stratigraphy, vol. 16, no. 1, text-figures 1–3, table 1: 27–39
Awards & Honors
Overall Best Student in Geology Award, University of Ilorin, Nigeria (1984/85)
Graduate Fellowship Award, Obafemi Awolowo University, Ile-Ife, Nigeria (1989-1990)
AAPG Grant-in-Aid Award (1998, 2007)
Research Assistantship, King Fahd University of Petroleum & Minerals (1997-2000)
Alice Wilson Scholarship for Paleontological Research ( Carleton University, 2007)
Entrance Scholarship Award (Carleton University, 2003/2004)
Domestic Student Tuition Award (Carleton University, 2004-2006)
Teaching and Research Assistantships, Carleton University, Ottawa, Canada (2004-2009)
Millennium Gold Bursary (Carleton University, 2009)