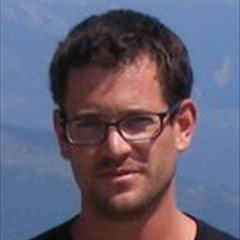 Location:
Bldg. 76, Post-doc Office
Dr. Johan Le Goff
Post-Doc Researcher, Geosciences Department
Johan Le Goff received his B.Sc. and M.Sc. degrees in geology from Ecole Nationale Supérieure Environnement – Géosciences – Ingénierie – Dévelopment (ENSEGID) in Bordeaux (France) in 2010. His Ph.D. (2015) was carried out under a double-degree agreement between ENSEGID and the KU Leuven (Belgium). He worked in 2016 as an invited researcher at the University of Bordeaux and since 2017 as a post-doctoral researcher at KFUPM-CPG, Saudi Arabia. His research interests include marine sedimentology and carbonate systems, with a special emphasis on carbonate-slope transfers of sediments.
Educational Qualification
Ph.D. in Carbonate Sedimentology, bi-diploma contract ENSEGID-Bordeaux INP & KU Leuven Universities, 2011-2015.
M.Sc. in Geo-resources & Environmental sciences ENSEGID Bordeaux INP, France (Sedimentology, Reservoir Geology), 2008-2010.
B.Sc. in Geo-engineering ENSEGID Bordeaux INP, France (Geology, Geomorphology, GIS), 2007-2008.
Research Interests
Sedimentology: Outcrop description, sedimentary logging; Facies & microfacies analysis; Geological mapping (field & GIS).
Stratigraphy: Sequence stratigraphy, definition of depositional sequences; Biostratigraphy (Late Cretaceous & Neogene); Chronostratigraphy (strontium isotopes).
Diagenesis & stable isotopes: Cement stratigraphy, definition of paragenetic sequences; Cathodoluminescence microscopy, epi-fluorescence microscopy; Analysis and interpretation of δ13C & δ18O signatures.
Structural geology and Petrophysics: Structural analysis of soft-sediment deformations; Mercury Injection Porosimetry; Permeability measurements.
Selected Publications
Le Goff, J., Slootman, A., Mulder, T., Cavailhes, T., Ducassou, E., Hanquiez, V., Jaballah, J., Reijmer, J.J.G. On the architecture of intra-formational Mass-Transport Deposits: Insights from the carbonate slopes of Great Bahama Bank and the Apulian Carbonate Platform. Accepted on April 12th, 2020 (Marine Geology).
Randazzo, V., Le Goff, J., Di Stefano, P., Reijmer, J.J.G., Todaro, S., Cacciatore, M. (2020). Carbonate slope re-sedimentation in a tectonically-active setting (Western Sicily Cretaceous Escarpment, Italy). Sedimentology. https://doi.org/10.1111/sed.12705
De Graaf, S., Nooitgedacht, C.W., Le Goff, J., Van Der Lubbe, H.J.L., Vonhof, H.B., Reijmer J.J.G. (2019). Fluid-flow evolution in the Albanide fold-thrust belt: Insights from hydrogen and oxygen isotope ratios of fluid inclusions. AAPG Bulletin 103 (10): 2421-2445. http://org/10.1306/02151918034
Le Goff, J., Reijmer, J.J.G., Cerepi, A., Swennen, R., Loisy, C., Cavailhes, T., Heba, G., De Graaf, S. (2019). The Dismantling of the Apulian carbonate platform during the the Late Campanian – Early Maastrichtian in Albania. Cretaceous Research 96: 83-106. https://doi.org/10.1016/j.cretres.2018.11.013
Mulder, T., Gillet, H., Hanquiez, V., Reijmer, J.J.G., Droxler, A.W., Recouvreur, A., Fabregas, N., Cavailhes, T., Fauquembergue, K., Blank, D.G., Guiastrennec, L., Seibert, C., Bashah, S., Bujan, S., Ducassou, E., Principaud, M., Conesa, G., Le Goff, J., Ragusa, J., Busson, J., Borgomano, J. (2019). Into the deep: A coarse-grained carbonate turbidite valley and canyon in ultra-deep carbonate setting. Marine Geology 407, 316-333. https://doi.org/10.1016/j.margeo.2018.11.003
Extended Publications (+)
Mulder, T., Gillet, H., Hanquiez, V., Ducassou, E., Fauquembergue, K., Principaud, M., Conesa, G., Le Goff, J., Ragusa, J., Bashah, S., Bujan, S., Reijmer, J.J.G., Cavailhes, T., Droxler, A.W., Blank, D.G., Guiastrennec, L., Fabregas, N., Recouvreur, A., and Seibert, C. (2018). Carbonate slope morphology revealing a giant submarine canyon (Little Bahama Bank, Bahamas). Geology, 46 (1), 31–34. https://doi.org/10.1130/G39527.1
Le Goff, J., Cerepi, A., Ghysels, G., Swennen, R., Loisy, C., Heba, G., El Desouky, H., Muska, K., (2015b). Meter-scale cycles as a proxy for the evolution of the Apulian Carbonate Platform during the late Cretaceous (Llogara Pass, Albania). Facies 61, 1–26. https://doi.org/10.1007/s10347-015-0448-2
Le Goff, J., Cerepi, A., Swennen, R., Loisy, C., Caron, M., Muska, K., El Desouky, H., (2015b). Contribution to the understanding of the Ionian Basin sedimentary evolution along the eastern edge of Apulia during the Late Cretaceous in Albania. Sedimentary Geology 317, 87–101. https://doi.org/10.1016/j.sedgeo.2014.09.003
Awards & Honors
Ph.D.: highest honors and jury's congratulations