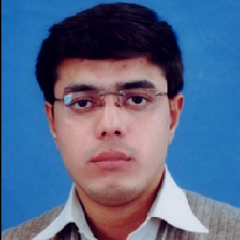 Location:
Bldg. 15, Rm. 3118
Ayyaz Mustafa
Engineer II, CIPR
Educational Qualification
M.Sc. in Geology, King Fahd University of Petroleum and Minerals (KFUPM), Saudi Arabia, 2015.
B.S. Geological Engineering, University of Engineering and Technology, Lahore, Pakistan, 2009.
Research Interests
Geomechanics
Hydraulic Fracturing Optimization
Finite Element Modeling
Artificial Intelligence
Unconventional Shale Gas
Brittleness and Anisotropy in Shales.
Selected Publications
Mustafa, A., Sahin, A., Abouelresh, M.O., Hariri, M.M., (2016). Lithofacies Controls on Natural Fracture Distribution in the Qusaiba Shale, Rub' Al-Khali Basin, Saudi Arabia. Journal of Asian Earth Sciences, (Submitted Ref. No. JAES-D-17-00924)
Mustafa, A., Sahin, A., Abdulraheem, A., Korvin, G., (2016). Lithofacies Controls on Mechanical Properties and Brittleness of Lower Silurian Qusaiba Shale, Rub' Al-Khali Basin, Saudi Arabia. Abu Dhabi International Petroleum Exhibition and Conference (ADIPEC).
Mustafa, A., Sahin, A., Abdulraheem, A., (2016). Brittleness Estimation and Anisotropy Analysis of Lower Silurian Qusaiba Shale, Saudi Arabia. 4th International Conference on Integrated Petroleum Engineering and Geosciences (ICIPEG), Kuala Lumpur, Malaysia.
Ejaz, W. and Mustafa, A., (2015). Petrophysical and Dynamic Geomechanical Characterization of Lower Silurian Qusaiba Shale, Saudi Arabia. 3rd Middle East Geoscience Symposium, Manama, Bahrain.
Mustafa, A., Sahin, A., Hariri, M.M., Abouelresh, M.O., Korvin, G., and Abdulraheem, A., (2015). Multi-Scale Geological Characterization of the Lower Silurian Qusaiba Shale, Rub' Al-Khali Basin, Saudi Arabia. AAPGSEG International Conference and Exhibition, Melbourne, Australia, (Article #90217).
Mustafa, A., Sahin, A., Abouelresh, M.O., and Hariri, M.M., (2014). Geological Characteristics of the Lower Silurian Qusaiba Shale, Rub AlKhali Basin, Saudi Arabia. 2nd EAGE/SPE/AAPG Shale Gas Workshop, Dubai. ISBN: 978-1-63439-487-1. Page 38-42.
Mustafa, A., (2014). An outcrop study of Lower Eocene Rus Formation, using Optical Microscopy, Scanning Electron Microscopy/Energy Dispersive Spectroscopy and X-ray Diffraction. 2nd Middle East Geoscience Student Symposium, Oman.
Mustafa, A., and Sahin, A., (2016). Unconventional Shale Gas: An Emerging Resource of Energy. Society of Petroleum Engineers (SPE) Student Magazine Article, University of Engineering and Technology (UET), Lahore.
Shafique, U., Khan, M.S., Mustafa, A., and Arif, S. (2012). Engineering Geological Characterization of Lahore Soil, based on Geotechnical Testing and Mineralogical Composition using X-ray Diffraction. Pakistan Journal of Sciences, Vol. 64 Issue. 3