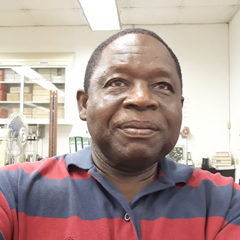 Location:
Bldg. 2, Rm. 113
Abdulsamed Iddrisu
Petroleum Engineer, Laboratory Technical Support & Services
Mr. Abdulsamed holds a B.Sc. Degree at KFUPM and received his post-graduate professional training (Mud, Cement and Drilling, and Workover Engineering) in the USA and Canada.
He has over 25 yrs. experience in Petroleum Fluids Properties (PVT) Lab, Reservoir Rock Properties Lab, and Drilling Fluids and Cementing Labs, both in teaching and research.
Over the years we have devised a simple, unique, and successful technique (in our teaching Labs) of producing high quality and successful Engineers.
A technique that targets first-year freshmen students, is based on reducing complex scientific and engineering laws and theories taught in the classroom to simple, practical, day-to-day experience
In the Labs. In short to lay a strong and solid engineering foundation in their mindset.
Educational Qualification
B.Sc., Petroleum Engineering, KFUPM, (Dhahran, Saudi Arabia, 1984)
Certification:

Certified Drilling & Cementing Engineering from Maritime Drilling School. Ltd (Nova Scotia, Canada 2007).
Certified in the installation, operation, configuration, troubleshooting, and repair of Chandler mercury-free PVT instruments (2005)
Awards & Honors
Dean of College of Petroleum Engineering and Geosciences Memorandum Letter of Appreciation 2016
Director of Research Memorandum Letter of Appreciation 2009
Dean of College of Engineering Outstanding Engineer Award, 2008/2009
Dean of College of Engineering Outstanding Engineer Award, 2003/2004
Rectors Distinction & Outstanding Research Team Award,1999/2000
Yearly academic evaluation is always excellent